Red Dot Award for Chrom2Style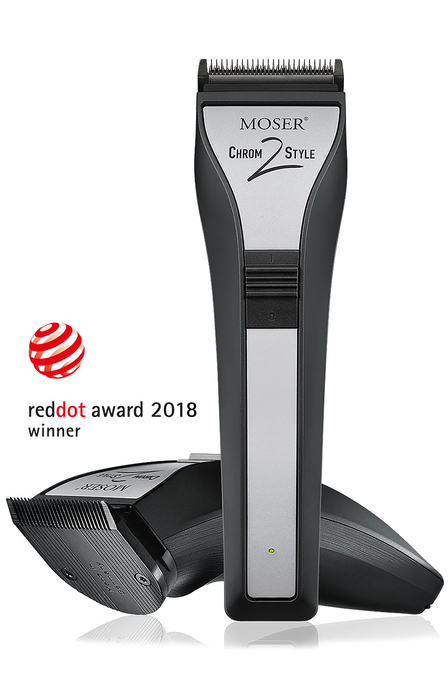 It's finally here!
The latest innovative hit from MOSER is the Chrom2Style. Following on from Chromstyle Pro, Wahl's worldwide best-selling cordless hair clipper, the professional appliance boasts impressive features and a pioneering design. As a result, the Chrom2Style won the 2018 Red Dot Award in the "Product Design 2018" category right out of the gate. The decisive factors were its advanced technology, exceptional lightness and ergonomics with optimal weight distribution as well as its comfortable, intuitive operation. Coming equipped with a powerful lithium-ion battery, the Chrom2Style guarantees a consistent speed for up to 120 minutes operating time and just 80 minutes charging time. In addition, the
Diamond Blade
professional blade set provides an excellent cutting performance. The popular
All-in-One-Blade
may also be optionally attached.
Ergonomic perfection

The slim, ergonomic shape of the new Chrom2Style allows it to fit perfectly in the hairdresser's hand. The innovative edge of the handle automatically guides the user to the appliance's centre of gravity and therefore allows them to work from the wrist in a manner that is balanced and easy on the joints. As a result, the Chrom2Style is suitable for both right-handed and left-handed hairdressers. And what's more, an adjustment lever at the back of the appliance ensures simple cutting length adjustments and a special easy-grip switch combines intuitive operation with ergonomic functionality.
Design by Moser

It is not without reason that the Chrom2Style has immediately secured one of the highly coveted
Red Dot Awards.
The brushed housing structure in combination with a matt surface, which not just emphasises the shape and dynamism of the appliance but also ensures an optimal grip and safe operation, is one of its visual highlights. The deeply recessed titanium-coloured cover underscores Moser's technical character and brand values. ‹Pure. German. Precision.
About the contest:

The Red Dot Award is a fee-based design competition that awards the "Red Dot". A jury selects the winning works and products. The winners are then exhibited for at least one year in the Red Dot Museum in Essen. The award is presented in the categories of product design, communication design and design concept.

Source: Wikipedia